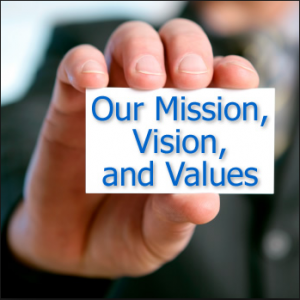 Do your mission, vision & values matter? Well, the quick answer is of course your mission, vision & values matter! and they are one of the first things you need to consider as you are setting up your new business.
How to Create Mission, Vision & Values Statements in 3 Simple Steps
Creating mission, vision & values statements can be a little daunting, but it is a great practice because it helps you organize your thinking so you can be more efficient as you work.
To get started, set aside some time to reflect and consider what it is that you, as an individual or company, are trying to create. That will serve as the basis of your mission.
Next, consider what you want the results of your work to be. Maybe your vision is of a world in which dogs are never lonely (meaning, I hope, that you run a dog sitting service). Whatever you want the effects of your work to be will form the foundation of your vision statement.
Finally, make a list of your values. You can get a list of values online. Chose the five to ten you find most personally meaningful.
In case you aren't convince, let's break it down and consider why mission, vision & values are important.
Why Your Mission Matters
Your mission is important because it provides you (and any staff you may be lucky enough to have!) an internal and external definition of your organization. This will help you get and stay on track as well as letting your public know what you are up to and what's in it for them.
Your mission should sum up, in a tidy little package:
Who your audience is
What you do and
How you do it
Here is the ANNACOLIBRI mission to give you food for thought:
Mission
ANNACOLIBRI compassionately and efficiently coaches bright and beautiful beginners and solopreneurs to
Be technically savvy
Develop web presence and
Share their personal and professional messages online and off
Why Your Vision Matters
Your vision matters because it describes how you want your company, or world, to be. Vision provides inspiration and inspiration is what allows for joyful action both personally and professionally. Your vision statement, like your mission statement, should be short and to the point.
Here is ANNACOLIBRI's vision. I hope it will inspire your own!
Vision
ANNACOLIBRI's vision is a world in which everyone has access to the technology, skills and resources needed to unleash
Financial independence
Creativity
Flexibility and
Joyful living
Why Your Values Matter
Your values represent what you think is truly important. Working from your values brings joy, but also increased efficiency because, when you work with your values, and not against them, your work flows more smoothly.
Your values are your true motivators. It is critical to think through what you value and let your actions align with those qualities.
To get you started, I have listed ANNACOLIBRI's values here:
Values
ANNACOLIBRI's values guide all of our actions and how we want to make a positive difference in the world. They are:
Quality: Developing beautiful and useful products and solutions
Courtesy: Reliable and considerate service
Communication: Listening carefully and speaking skillfully
Integrity: Being true to ourselves and honest with clients
Courage: Facing our problems, whatever they are
Self-actualization: Being our personal best, and nothing less, in mind, body and spirit
Creativity: Using ingenuity, inspiration and resourcefulness
Ecology: Recognizing our role in sustaining each other and the planet and
Remembering to have fun!
Potential Pitfalls
Although, in theory, creating mission, vision & values statements isn't that hard, there are potential pitfalls that can keep you from getting started. They include lack of:
Clarity. Maybe you haven't clearly defined your products, services and target market? What you sell and who you are selling it to are the core of your business, so they can't be neglected.
Motivation. Maybe you don't understand how clarifying your mission, vision & values will provide a foundation for the rest of your work.
Time. Maybe business is holding you back, but clarifying your mission, vision & values is an investment that will save you time in the long run, so get going!
Your Turn
Does your company have a vision, mission & values statement? If not, what holds you back?
Citation
Evans, Jennell. Vision and Mission – What's the difference and why does it matter? Psychology Today. April 24, 2010.
Image URL: portsmouthlibrary.org
Do you need digital marketing services? Please connect with us for a complimentary digital strategy session! Just click the button below to get started.