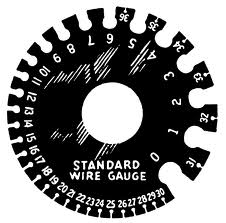 Let me be perfectly clear.
I'm not what you would call, strictly speaking, a "numbers person."
I mean, I can add. And subtract. And calculators are my friends.
I believe I have said this before, but here's the — and I'm not especially proud of it — truth: For me, numbers are a deep charcoal swimming on a black background.
And a spreadsheet full of numbers just made me want to look the other way. Until I discovered just how pretty you can make a spreadsheet look. Nowadays I roll up my sleeves and color all of my spreadsheets colibri colors (pink and green in case you didn't know!).
This is something I have had to overcome and, if you are like me, which is to say the French major equivalent of a finance expert (get it? They have nothing to do with each other!), you, too, will have to.
I'm here to help.
I've had to get over my bad math-hating self and, though it is not especially easy to do it is IMPORTANT for your success as an entrepreneur, an employee and, I hate to admit it, a mature human being.
So. Here goes:
What You Have To Measure
If you are an entrepreneur with an online component to your business, you need to be able to measure at least something in each of the following areas:
Website/blog
Newsletter/email
Facebook
Instagram
LinkedIn
Pinterest
Twitter
Yelp and
YouTube
You will also need to track and measure your business finances, which, lucky you, I have already blogged about.
This article will give you a few simple get-started tips and resources in each area. Here's my advice:
Get started
Learn by doing
Celebrate!
Why celebrate? Well, just by getting started you are ahead of the game.
Analytics Dashboard
Analytics can get very fancy and very intimidating very quickly.
In order to combat overwhelm, I suggest you create your very own Analytics Dashboard.
Start with fields for every month in the year plus links to where you can log into or find the analytics, with a field for login details if necessary.
You can, of course, style your Analytics Dashboard to look however you want. The important thing is that you begin to put yourself into the analytics mindset.
Words to the wise: You may not realize that if you take these few steps you will be ahead of more than 90% of your competitors (okay, so I made up the exact number but, let me ask you, how many of your friends have Analytics Dashboards? You begin to see my point!). So chin up Little Analyzer.
Finally, set up an alert in your phone (I recommend an iPhone 🙂 ) to prompt you to look at your analytics monthly and fill out your Analytics Dashboard.
Website/blog Analytics
The first thing you need to do if you have not done it already is install Google Analytics on your website.
Go to Google's very own Setup Checklist to get started.
You will also need an SEO plugin for your WordPress site. I recommend Yoast.
If you are having trouble with this, let me know and I can help.
Once you are set up, I recommend creating a very simple Analytics Dashboard for yourself with the following categories:
Visits
Unique visitors
Pageviews
Pages/visit
Average visit duration
Bounce rate and
Percent of new visits
Using your Analytics Dashboard, you will bserve how these numbers change over time. Although this suggestion barely scratches the surface of what Google Analytics can do for you, it helps you to get into what I have already called the Analytics mindset.
I, for one, am pleased to report that, compared with one year ago, the number of unique visitors I have each month has gone up 384.5%! How would I know that uplifting statistic without measuring my online metrics?
Newsletter/email Analytics
If you have not done so already, you need to get started with an Email Service Provider (ESP) like my fave, MailChimp. The accounts are free to get started.
Once you have your account, create a campaign for your blog so it is sent out to your subscribers automatically each time you post.
Once you have set up your campaign, you can view automatically generated reports that give you baseline information about how many people open your email and how many people click your links.
For now, though, we will stick to your subscriber list. In your Mailchimp Dashboard you will view your list each month. Add these fields to your own Analytics Dashboard:
Number of subscribers this month
Number of subscribers last month
Difference
And watch your list grow!
Again, if this gets too tricky, I can help.
Facebook Analytics
Facebook calls their analytics Facebook Insights. Facebook Insights are easy-to-use and helpful. Good news for people like you and me!
After you have created a Page and have 30 likes, you can start using Insights.
Add the following fields to your Analytics Dashboard:
Page likes
Post reach and
Engagement
Facebook sends weekly summaries via email, but, again, you are establishing the Analytics mindset.
Just for fun: Because Insights are so user friendly, take a minute to poke around each time you log on. I enjoy the "people" section because it gives me a lot of intel about my audience and the time of day they are on Facebook, which helps with timing my updates.
Instagram Analytics
While Instragram does not currently offer analytics to its users, there is a free option I have scouted out and am happy to share with you. And, if you run across something better, please let me know!
In exchange for following them on Twitter, Simply Measured offers free Instagram reports.
Create your account and then add the following fields:
LinkedIn Analytics
LinkedIn offers pared down analytics for its free accounts. Click on Profile and then Who's Viewed Your Profile.
You will see how many people have viewed your profile in the last 90 days and how many times you came up in searches.
Add these fields to your Analytics Dashboard:
Profile views
Number of Searches
You will also find limited information about who searched for you and which keywords were used to find you.
There are also LinkedIn Insights for Business Pages.
Pinterest Analytics
Pinterest has robust analytics for anyone who creates a business account.
Add these fields to your Analytics Dashboard:
Pins
Pinners
Repins
Repinners
Impressions
Reach
Clicks
Visitors
Twitter Analytics
It is a bit of a little known secret that Twitter offers free analytics. In order to access them, head to Twitter Advertising and click on Analytics.
Add the following fields to your Analytics Dashboard:
Followers
Mentions
Follows
Unfollows
Tweets
Link clicks
Yelp Analytics
In order to access Yelp Analytics you will, of course, need a Yelp business account.
Once your account is set up, you can check the following online metrics in the Business Support Center:
User views
Customer leads
Revenue estimate
The revenue estimate seems a little far fetched to me, but it's still appealing to watch the number go up each month.
YouTube Analytics
Go to your YouTube Channel, find the Upload dropdown to the right of the search bar and click Dashboard.
There you will find Key Stats From The Last 30 Days.
They are:
Video views and
Subscriber net change
Add them to your dashboard and call it a day!
You may now proudly call yourself a Data Analyst.
Putting It All Together
Now that you have all of this information in one place and can see your progress monthly, you will find that it subtly influences you. Of course you will want to beat your numbers month-to-month.
You will also "soak in" little tidbits about your audience and what their habits are. Your ability to serve them will grow automagically.
You will find that certain metrics resonate with you more than others. You may begin to feel a sense of "play" with the numbers.
Finally, this skill makes you more employable should you ever decide to abandon the merry life of the online entrepreneur.
As I said, most people don't know Analytics from well, their, erm, enough said.
If you have a leg up on this stuff, you definitely have something to offer in addition to all that you will have gained.
A Word On Google+ Analytics
Friends, you should be able to do this: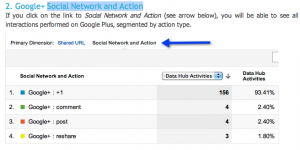 For the life of me, I could not figure it out. Not one to admit defeat, I enlisted the help of a programmer and even he could not figure it out on the spot.
Sure, he could build an app, but this post was due tonight.
Call to action: If you know, or your mother knows, or anyone else you know, knows how to set up Google+ Social Network and Action section of Google Analytics, please don't hesitate to contact me!
And don't worry, I will not let this quest go. I, Anna Colibri, your socially conscious marketer and online advocate, will let you know when I do — or die trying.
Your Turn
What's your take on Analytics? Do you have any tips to make the Analytics mindset come alive?
Do you need digital marketing services? Please connect with us for a complimentary digital strategy session! Just click the button below to get started.