Kira Mead, Founder, 49 Doors
Kira Mead is that rare San Francisco realtor who loves architecture, design and San Francisco's urban culture. As a busy realtor, she needs strategies, tools and systems support to share her message, "San Francisco real estate with style, creativity and vision."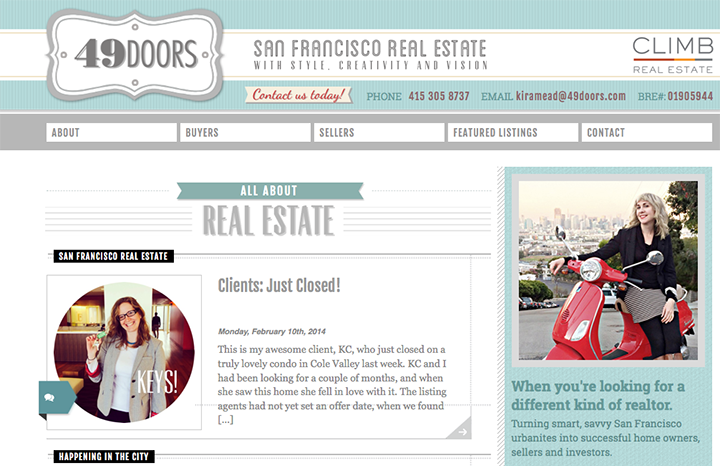 I met with Anna to work on my online and social media marketing for my business. The first time we met, we had what Anna calls a "Discovery Session." She'd sent me homework for a few weeks prior to this, giving me lots of food for thought, so I could approach our session feeling ready. We spent hours discussing everything from my mission and what I had going for me, to understanding how to get my website SEO ready. I was so impressed by Anna that from that first session that I've continued to work with her, and she has been helping me with my marketing, digital strategy and copywriting. She's definitely a social media expert, and working with her has made the overwhelming task of keeping up on my social media marketing doable. Anna is smart, professional, and up on what it takes to succeed in the crowded online world. Not only that, but she is enthusiastic, fun and inspiring to work with. I'd highly recommend her to anyone looking for help with their marketing, social media strategy or online presence.
Kira Mead
Schedule Your Complimentary One-Hour Strategy Session with Anna Colibri
Learn how a custom digital strategy can save you time, streamline marketing and boost profits so you can be your best and nothing less.
Click Here to Schedule
Latest posts by annacolibri (see all)