Valerie Edmon, Founder, Goose Dog Designs
When Goose Dog Designs Founder Valerie Edmon came to me looking for SEO copywriting I couldn't be happier. Goose Dog pumps out high-quality, high-octane websites and blogs — of course they want their web pages, opt-ins and email campaigns to reflect that same energy and I deliver.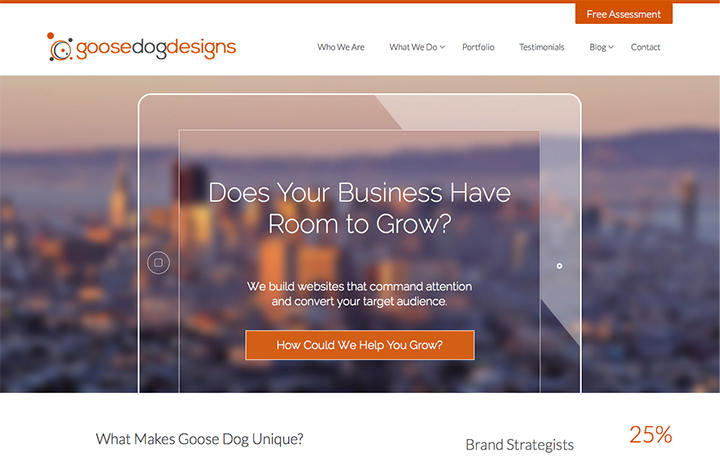 I am so grateful I found Anna to take care of the SEO copywriting and online marketing project I'd put off for two years (literally). Truly skilled SEO copywriting means not only being able to structure text so that it attracts traffic through the search engines, but also so that it speaks naturally to the people reading my website, my future clients.
I am extremely picky with writing, which is why I'd put off writing SEO content for my website for so long. Anna did a brilliant job writing my website copy. Her turnaround was lightning fast and she prompted me afterwards for feedback so she could make revisions. Guess what? I had no changes to make. How do you improve perfection? The content speaks to my prospects and is also cleverly designed to attract search traffic. How Anna did such thorough research and wrote my content so beautifully with such quick turnaround time is beyond me.
Anna, thank you for creating website content that I can be proud of. I finally feel like my website accurately represents my company's values and vision. I know that this is the missing online marketing link that will turn my website into a powerful competitor in the search engines when my future clients search for my services. Thank you Anna, thank you, thank you, thank you!
Valerie Edmon, Principal of Goose Dog Designs
Schedule Your Complimentary One-Hour Strategy Session With Anna Colibri
Learn how a custom digital strategy can save you time, streamline marketing and boost profits so you can be your best and nothing less. Click Here to Schedule
Latest posts by annacolibri (see all)