As those who know me know, I recently went on a 28 Day Cleanse, which turned out to be CRAZYBEAUTIFUL — you can read about the results, which far more amazing than ever I expected, if you link to my personal blog.
Today, though, I want to share Kendra Cannoy's success story because not only does she have a lot to teach us all about food and health, she is a super together and savvy business woman. Get to know Kendra. Schedule a 1:1 and find out more about great health and business habits.
Now let's hear from Kendra:
Anna: Tell me a bit about yourself and your background. How did you get involved with 28 Days to Health? What is the philosophy behind your business?
Kendra: A couple of years after graduating college at USF I decided the office life wasn't for me. I started personal training at Bally Total Fitness in San Leandro. I had no idea what I was doing but I relied on my body awareness from a lifetime of dancing. That was the start of a 12 year career as a personal trainer where most of my time was spent in Newport Beach with my own clientele. Several years ago an injury led me on a journey to discover the anti-inflammatory diet (See video on my website). Soon after I met the creator of 28 Days To Health™, Colleen Carney Ruge, who was visiting a client of mine in Newport Beach. She quickly proved that what I had been taught about nutrition as a trainer was completely different then, what I now know as, true nutrition for true health. She became my mentor and taught me everything I know about nutrition as well as how to create a business around it.
The philosophy? Well I guess it boils down to "inflammation is the root of all evil." I say that to be dramatic when I teach workshops and classes but it's actually true!
Anna: How would you describe your services and what clients can expect?
Kendra: I help clients take a realistic look at their habits and lay out simple options for them to move into a healthier lifestyle. I meet/talk with clients and help them decide whether they want to take baby steps into the 28 Days To Health™, or jump right into the full cleanse, and look at what supplements will help them reach their goals. Then we go from there.
Anna: What makes 28 Days To Health unique?
Kendra: Education! There are so many programs out there now and even more nutrition products. I see people taking stabs in the dark at what they should be taking and where they should be spending their money. It's so common for people to lose weight on a program and then gain it all back . . . it's because they have no idea why they were doing what they were doing and how to keep it up long term. 28 Days To Health™ gives a road map for long term success. Even if you are going to cheat and have a donut, there are ways to lessen the impact and get back on track quickly.
Anna: Talk about how you like to interact with the community. Tell us about your role in San Francisco's business community.
Kendra: I can be most effective in my business my presenting the nutrition program is classes, workshops and events like "Healthy Happy Hours." A lot of my time is spent networking around The City connecting with other health professionals or businesses in need of some nutrition 411.
I am an excellent networker and am on my way to mastery! Haha I really respect Master Networkers and how they act selflessly working hard to connect you with others to find success. In BNI (one of my networking groups) we say "Givers Gain". I am learning that this is so true.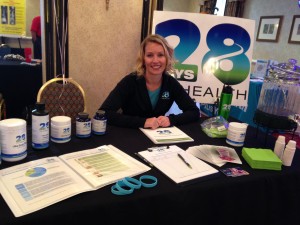 Anna: What does the future look like for you and 28 Days to Health? Any ideas on projects or different services you'd like to add on?
Kendra: Oh my gosh I have so many ideas! There are so many medium sized business that could benefit from helping their employees have more energy and focus throughout the day. I have tools to help them! I love collaborating with other professionals like behavior therapists or life coaches or chiropractors to bring in events that feature all aspects of health. With my personal training background I have always wanted to do a 28 Day fitness challenge along with the cleanse program. It could really increase results. My vision for 28 Days expands beyond San Francisco starting first with the Peninsula and Marin.
Anna: What do you love most about San Francisco in general? What do you love most being a nutrition coach?
Kendra: Anyone who knows me knows I am huge fan of SF. My friends in the OC were not surprised that I moved back. I always say, "I love weirdos and these are my people!" I love being around entrepreneurs, artists, visionaries and of course I love to eat and cocktail around this beautiful city.
As for being a nutrition coach, watching people connect the dots between what they eat and how they feel AND that they are in control of their health is so exciting. Like YOU, Anna!
Anna: Many people spend their days at their desks, in front of computers. Any tips for keeping your body healthy and feeling good when you're at a desk all day?
Kendra: Now that I am not in the gym all day I can relate to the issues of being at a desk. You just have to move. Have a walking meeting if it's with a co-worker, get a stand up desk, walk during your lunch break. Make time for exercise. Even just basic stretches in your chair can help alleviate tendonitis and tight shoulders, etc.
Anna: Who else is in involved in 28 Days to Health? Who is your team and who do you rely on?
Kendra: I work with Colleen Carney Ruge still almost every day via phone. I have other licensees in The City including a fabulous Pilates and Personal Trainer, Kaitlyn Rhoades, two amazing chiropractors in SF, Dr. Adam Jacobs and Dr Jose Limon as well as a respected weight loss coach, Coco O'Donnell. They are all fans of the 28 Days To Health™ lifestyle and share it with their clients/patients in their practice. The company is located in Walnut Creek and I interact with them frequently to talk about orders, client questions and some exciting changes that are on the horizon!
Anna: Feel free to share anything else about yourself of 28 Days to Health that you would like to.
Kendra: The name of the program can be misleading. While the cleanse program is 28 Days long, We have tools and suggestions for those who want to start smaller or just want to incorporate some basic supplements for improved health. I also have to work hard to combat the idea that cleanses are liquid diets. That is not the case (I joke that you would die if you had liquids only for 28 Days.) Our program is animal protein friendly (Yes you can have fish, chicken, turkey and even the beloved beef) and you will have plenty of calories. The program doesn't even have to be a weight loss program. It's about removing inflammation and feeling your best.
Anna: How do you use social media and online marketing in your business?
Kendra: I use my FB page the most "Coach Kendra Cannoy" where I post articles, pictures of my adventures in nutrition and recipes and ideas for healthy living. I have a blog which has been stagnant for a while but it's on my list to improve. I have just started to shoot promo videos as well as record webinars for my classes. I am working hard at keeping up with technology.
Anna: What's your advice for up and coming businesses?
Kendra: Marketing is so important and something you simply can't avoid. Either learn to do it or pay for someone else to. I do a ton of face to face marketing and try my best at online marketing. It's a combo of both I think.
Anna: What do you think is most important in life — and business?
Kendra: Relationships. It's not about things, and titles and accomplishments. It's who you know, how you are helping them and how much fun you have together doing whatever it is you do.
Do you need digital marketing services? Please connect with us for a complimentary digital strategy session! Just click the button below to get started.