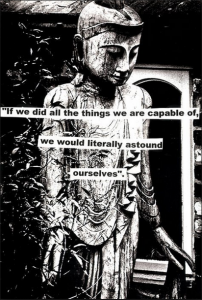 Hello Family, Friends, Colleagues, Clients and Visitors:
2013 has been an amazing year for my business and all of you have been, and will continue to be, critical to my personal and professional growth.
As some of you know, I promised myself at the beginning of 2013 that I would do two things:
Put out 110% effort to grow my business and help clients to both meet their financial goals and find ways to soar beyond the bottom line to go from good to great.
End the year in silent reflection so I can come out strong and soar even higher in 2014.
I am going to spend time in Occidental, California at a Vipassana retreat. This will be my third retreat of this kind, so I know it is a difficult, but always rewarding, experience.
Knowing how transformative an experience like this can be, I am going to share some previews of my intentions for 2014.
I hope my intentions will give you some food for thought as you move forward with planning your own year.
Anna Colibri — 2014 Preview
Brand. The colibri is getting a haircut. In other words, I am rebranding. So watch for a new logo that will better reflect my business values.
Website. I am excited to announce that, in early 2014, I will be launching a totally new website with lots of free goodies for new subscribers (drop me a line if you, as an existing subscriber would like to get in on the offer).
Blog. In 2103 I focused a lot on the nuts and bolts — both online and off — of running your business. In 2014, the blog will focus specifically on digital strategy, how you can position yourself to shine online and case studies (drop me a line if you have topics you would like covered).
Newsletter. I am launching a newsletter in 2014. The newsletter will have fresh content and also give me an opportunity to share special offers with subscribers.
Skillshops. In 2013 I launched my monthly Skillshop series, covering Twitter and Pinterest. I will continue with these events in 2014, starting January 9 with LinkedIn For Lead Generation and Job Searching.
Publishing. In 2014 I will publish a book. It's something I've been working on for well over a year and, probably because it's been such a huge challenge, I can't wait to get it out of my hands and into yours.
This year, friends, I worked unsustainably. I've made it through, but not with quite as much grace and style as I aspire to. So, on a personal note, in 2014 I plan to:
Go slower
Take Sundays off
Spend time in nature
Enjoy regular date nights
Take three yoga classes per week
Host a monthly salon so I can see my friends and
Have as many pajama days with my boys as I can
I'm sure, too, that 10 days of silence will give me plenty of new ideas and perspective on my current plans, so stay tuned.
This is my last regular post of the year (My next regular post will be January 9, 2014).
I'll be thinking of you over the holidays while I'm supposed to be meditating — unless by chance I attain enlightenment and am completely focused on my breath for 10 days straight.
That could happen.
Best wishes for a wonderful finish to you holiday season and a magnificent 2014.
With love,
Anna
Your Turn
What are your intentions for the new year? Share your ideas in the comments.
Do you need digital marketing services? Please connect with us for a complimentary digital strategy session! Just click the button below to get started.